Posting Your Parcel
When do you send your trees?
We start sending trees in mid July on a first ordered - first sent basis. People who ordered in April / May should get them late July, while later orders will get them early August. We'll send you an email when they are sent.
Where do you send your parcels to in Australia?
All-over the country (Including WA). Here is a map showing the distribution of our parcels that we've sent from 2007 (not including orders pickup from nursery). You can zoom in /out.
What carrier do you use?
We use a mixture of local road couriersto deliver in Tasmania and Hunters Express for the Mainland States (inc WA)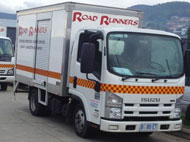 We will send you an email when the parcel is being dispatched, along with the contact details of the courier we use.

For Mainland deliviers, please visit the Hunter Express website. You will be sent your tracking number when your parcel is sent. Delivery times vary, but is generally 5-10 business days perhaps a bit longer if in remote areas.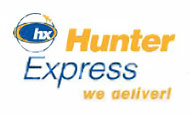 Delivery is "to your door" and if you are not home, we give authority to leave the parcel at the door.
In more rural parts of Australia, your parcel may be waiting for you at the closest depot. Best is to keep an eye on the tracking details and then call when it's arrived.


How much does postage cost?
We have tried to make postage as reasonable as possible, while using a well known reliable carrier. Below is a guide only. The shopping cart will calculate if for you. The price includes all of the shipping, packaging, handling and quarantine (WA) costs.
Orders 25 trees and over include free shipping (excluding WA and Flinders /King).
| | | | | | | | |
| --- | --- | --- | --- | --- | --- | --- | --- |
| | TAS | Flinders/King | VIC | NSW / ACT | SA | QLD | WA |
| base fee (1st tree) | $16 | $30 | $19 | $22 | $25 | $32 | 50 |
| price per tree thereafter | $2 | $4 | $3.50 | $4 | $4.50 | $5 | 8 |
Insurance?
This year we are offering parcel insurance to protect against loss of parcel during transit and major damage / breakage to plants in the parcel. We will offer replacement if possible (often not at the end of season due to low stock), or refund the damaged portion / full refund of order including shipping if lost. Note that insured parcels cannot be left at your residence without a signature, and will be taken back to the closest depot for redelivery. Parcels with no insurance that get damaged or lost may be be eligible for partial refund / compensation by the freight company.
Can I pick up my trees from the nursery?
Yes, although we recommend that you let us post them to you. Unless you live in the lower channel area, the cost of the return trip would probably equal the cost of the postage. The address will be emailed to you when your parcel is ready to pick up. We do charge a flat fee of $4 to cover packaging. Sorry we are no longer offering garden visits.
How are our trees packed?
We wrap the roots in moist sawdust and enclose them in a plastic bag. This prevents them from drying out. The branches are tied together after which the whole bundle is wrapped in cardboard to make a protective cylinder. Trees will happily last 3-4 weeks in these conditions without suffering.
What can you do before getting your parcel?
Plenty! Get the holes dug, set up the trellis, irrigation and protect from pests. See our articles on Planting and Caring for your Trees for some tips.