Pre-orders for winter delivery commence April. Please subscribe here to  be notified when we are open.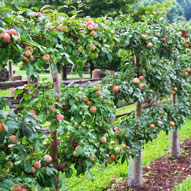 Our customers are looking for a diverse range of fruit trees, both heritage and new to plant in their orchards. Ideal for a range of garden designs - from a single tree to espalier on a vacant wall or space saving trellis, to a large orchard or enclosed garden.

We stock a large range of varieties of apples, cider apples, crab apples, pears, plums, quinces, cherries, nectarines, peaches, apricots, berries, nuts. We propagate old heritage varieties and more modern cultivars. Grow your own, and treat yourself to a spectrum of colour, size, flavour and texture that's far richer than anything you can buy at the grocer these days.

Our philosophy is simple. Rather than supermarkets dictating what fruit you eat based on how well they cool-store and how polished they present resisting bruising and blemishing. Instead grow your own fruit - choose ones that ripen at different times from Christmas to June, ensuring fresh fruit 6 months of the year. Then extend the season by drying, freezing, bottling, juicing, cellaring to fill in the remaining months. Whatever you grow, there is nothing that comes close to the pleasure of growing your own food.
We sell trees on dwarfing and semi-dwarfing root-stocks making them ideal for a compact garden for small free-standing trees or espaliering.
Note, our trees are bare rooted and we only ship in winter: mid July-August.
Please read our common questions page and look at our articles for information on growing and espaliering dwarf fruit trees.