by Nik Magnus | © 2009 | www.woodbridgefruittrees.com.au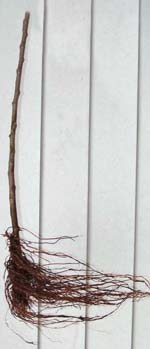 Rootstock before grafting
A rootstock is an simply a variety selected especially for it's disease resistance, health and vigour. These characteristics are passed onto the whole tree once the desired variety is grafted on top.Rootstocks are usually grown in stool beds where they are layered down and the vertical shoots harvested along with a few roots at their base. Because they are propagated this way, they are genetically identical to each other and the result entirely predictable. They themselves don't produce fruit of any quality, but when grafted with a good scion wood (a piece cut from another tree of a known variety) it acts as a supporting stem and root system for that variety to grow. The final tree size is influenced by the dwarfing nature of the rootstock and the vigour of each individual variety.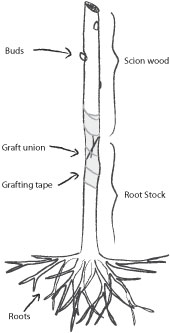 Anatomy of a graftling
Modern apple growers have the East Malling Research Station to thank for the rootstocks we use today. Bred primarily to increase the resistance to woolly aphid (see seperate article) it produced a spectrum of extra dwarfing, dwarfing and semi dwarfing rootstocks. The common apple rootstocks known today include M9, M27, M26, MM106 and MM111.
Other fruit trees have their dedicated rootstocks.
By grafting the scion onto the rootstock, we keep the variety identical to the parent tree, but allow the properties of the rootstock to come through - like growth habit, disease resistance and water requirement / drought tolerance.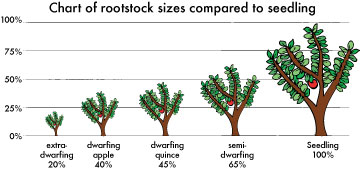 Rootstock size chart