by Nik Magnus | © 2009 | www.woodbridgefruittrees.com.au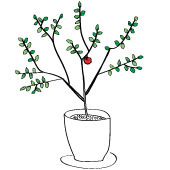 figure 1. Potted apple tree pruned to a vase shaped bush.
Fruit trees really prefer to be planted in the ground, but in some situations it would be great to have them in pots. Although you wont get the yield or size of fruit, dwarfing fruit trees will do well either as a espalier or open tree in pots. They should be planted in winter, and best to buy them bare-rooted one year old trees. Choose a large pot about 45-50cm diameter, putting a generous amount of small rocks or clay 'crocks' at the bottom to prevent soil leaking out of the hole when watering. Clay pots look lovely and are durable but heavy once full of soil and tree. Hard plastic pots are cheaper and lighter, while soft plastic pots (made out of tarpaulin material) can have handles that makes them easy to move. As they end up quite heavy, get a good trolley to lift them rather than move them by hand.
Choose a good quality potting mix and add a slow release fertiliser (like Osmocote), leaving 5-10cm of the pot unfilled. This will leave room for watering and adding mulch or compost. Plant the tree making sure the graft union not burried; it should be at least 5cm above the soil level. Water it in after planting. In spring, shoots will form - keep watering but avoid over-feeding with fertiliser until late spring when the tree is established.
Because of the limited amount of soil in a pot, potted trees are prone to drying out. Even though we may have good intentions at the outset, mostly we don't get around to watering our pots as much as they need. When soil dries completely it becomes difficult to absorb water again - try to avoid this by regular watering and mulching. A simple automated irrigation system can be bought reasonably cheaply and connected to a single dripper line to give your pots a daily watering. Get your watering system organised in winter / spring when you plant your tree, rather than waiting for warm dry weather in late spring and summer. Position your pots in full sun if possible, and avoid wind. Staking the tree will give it some support.

figure 2. Potted espalier. (left to right) planting the new tree; pruning; rub off all but three shoots; growing up in summer; attaching to an esplalier in autumn.
Prune your fruit trees in a similar way to those planted in the ground. If choosing an espalier, prune about 30cm above the graft when planting, and select the top three shoots to be your left, right and vertical shoots. Once the new shoots have hardened by the following autumn or winter, you can erect a vertical post with a cross piece and tie the left and right branches down. More information can be found in our 'Espaliering made easy' article.
For a free standing tree, prune a little higher up (say 60cm high) to encourage side branches rather than a vertical leader. There are many ways to prune, but the idea is to let light into the centre of the tree, while encouraging fruiting spurs. More information can be found in our 'Spanish Bush' article.
Potted fruit trees should be fed regularly with liquid fertiliser in spring and summer, plus the top mulch / compost layer scraped away and replaced afresh. They can be re-potted and roots trimmed every 2-3 years, but be sure to do this only in late winter when the tree is dormant.
The easiest types of fruit trees to pot up include apples, pears, cherries, quince, plums, nectarine, peach and apricot. If you plan to eventually plant your trees out into the ground, dont grow them in a pot for more than 1-2 years; any older and they wont produce such a good tree once transplanted.