by Bob Magnus | © 2006 Woodbridge Fruit Trees | www.woodbridgefruittrees.com.au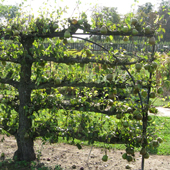 Old espaliered pear tree
We grow pears in dwarfing forms for the same reasons we grow other types of dwarfed trees: small trees are much more precocious in starting to bear fruit in about their third year. This is very important as pears on normal pear stock live a very long time, grow into large trees and can take many years to come into fruit.
Dwarfed pear trees are easier to spray (cherry slug), to protect from birds, to prune and to harvest.
Pears, as apples, often have a biennial habit e.g. they tend to bear a large crop of fruit one year and have a rest the next. Varieties on dwarfing stocks are easier to thin in the 'on' year thereby not stressing the tree too much and permitting it to bear more regularly.
Unfortunately in the case of pears we don't have many different rootstocks to choose from as is the case with apples. On the other hand the close relative of pear - the quince - has been found to provide a satisfactory dwarfing stock and indeed in many parts of Europe virtually all pears are grown on quince rootstocks. Not all pear varieties are compatible with quince rootstocks however, and we have to do some tricky grafting techniques to overcome this. The complexity of grafting pears, though is well worth the trouble to get them into a dwarfing habit.
Dwarfed pears are suitable as espaliers, pear arches and fan trees on walls. Pears on normal pear stocks are much too vigorous for this and constant hard pruning tends to make a tree produce ever more vegetative growth rather than flowers and fruit.