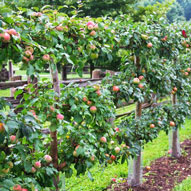 Dear Friends and Customers of Woodbridge Fruit Trees,

The 2021 website catalogue will be ready for order Monday 26th April at 7am. www.woodbridgefruittrees.com.au In the meantime please login to ensure your account / password is working.
Thanks for your orders - future and past. Due to a combination of limited farm resources and ongoing strong demand fruit trees and edibles, some varieties will sell out sooner than others. Apologies in advance for those who miss out.
Some varieties have two sizes this year: Normal and Small. This DOES NOT mean that the trees rootstock or growth habit is different from that listed. It simply means that Im offering trees that didnt grow to expected size at lower cost. The small trees are still healthy and will grow just as well.
Sought-after items like pepper berries, blueberries, grafted Sloes are available in good numbers this year.

Dwarfing Stonefruit or mulberries are NOT available this year.

Pickup from nursery (Cygnet, Tasmania) is available as usual and is free. Just choose "pickup from nursery" as your carrier during checkout.

Note that the trees are being dug in May, and shipping / pickup will commence July.
Please look at the range of espalier ties, grafting knives, grafting accessories, secateurs, pruning saws, sharpening and maintenance tools for your gardening needs. These can be shipped with your fruit tree order at no extra shipping cost*, or place an order separately to receive them now.
* - bulky items like spades jute webbing may add some small cost.

NO SHIPPING TO WA ANY LONGER.
To make choosing plants easier, please use the filter on the left-hand column to navigate ripening time, pollination and chill. To order, simply visit our website and log-in at the top right of the page. If you have misplaced your password, check the email you received when you registered or use our password recovery to set a new password. You will be sent an email with a link to reset the password. Reset here.
Wishing you happy gardening and planting for the 2021 season,

Nik Magnus
Woodbridge Fruit Trees